Merry Meadows Recreation Farm
1523 Freeland Rd. Freeland, Md. 21053 410-357-4088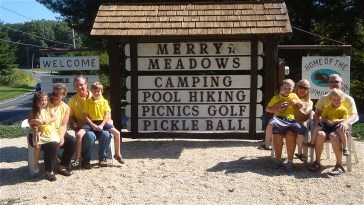 You may reserve a date Sunday through Thursday. You may want to reserve a date during the pool season to take advantage of all we have to offer or you may want to reserve a date for that special Winter Holiday Party with all your friends. We are open all year for your enjoyment. You get:
* Use of the 275 Acre facility where you can play Softball, Volleyball, Horseshoes, Tennis and Basketball. Your children will have a ball on the Playground. You can go Hiking along Little Falls Steam or spend the day swimming in the well guarded Pool. There is a 18 Hole Miniature Golf course (fee= $3.00), a Fun Center (.25 video games and .75 pool tables), and Golf Range(- where you pay for which ever size bucket of balls you want).
*Exclusive use of either the Pavilion- which has cement floor, picnic tables, refrigerator, can be opened on one side to create an outdoor feeling, and seats 120. There is a back door that leads you to the Bar B Que Pit that has two large charcoal grills for your use.
OR
*Entertainment Center- which is climate controlled and has tiled ceiling and floor, folding tables and chairs, speaker system, lighting for dancing as well as for meetings, and seats 200. This room has high windows so you have a more private atmosphere.
When you reserve, we will send you a contract to complete, sign, and return with a deposit to hold the date. We will also send you the rules your guests will need to be aware. There is a no alcoholic beverage policy between Memorial Day and Labor Day. We need an alphabetical list of everyone, including children, coming onto Merry Meadows upon arrival of the first vehicle. For more information please call (410) 343- 1319.
Check us out for your:
Company Picnic
Family Reunion
Church Picnic
Graduation Party
Retirement Party
Wedding Reception
WOW! What a terrific place to spend the day with all my friends!
For Reservations or Information call Lois (410) 343- 1319.
Group Day Use has temporarily been suspended.