Merry Meadows Recreation Farm
1523 Freeland Rd. Freeland, Md. 21053 410-357-4088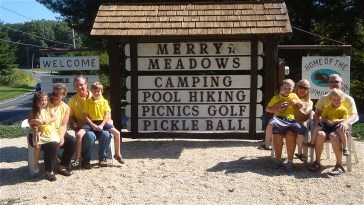 Long Term Campsites
Thank you for your interest in our Long-Term Sites. We have listed below some of the Most Frequently Asked Questions from campers that are interested in leaving their RV on a particular site for a long period of time (folks cannot live here). At Merry Meadwos, those with long-term sites (leaving the RV on a site for at least one complete year, with their residence elsewhere), are referred to as "Chipmunks"
Most campgrounds want the entire site fee paid at the beginning of each year. Is that the procedure with Merry Meadows? We understand that many people cannot afford to pay the entire amount of money at one time. At Merry Meadows everyone pays their site fee monthly, which enables you to incorporate the site fee into your budget. Before moving your RV to the site, a refundable security deposit(one month site fee) is due. Also, you would need to place a $25.00 refundable deposit on each gate card( you are allowed to obtain two gate cards).
What is the average site fee? The site fee depends on several factors such as: the size of the site, location, electric amperage, your intended use, etc. We encourage you to look at the sites. Please ask the hostess for the current sites that are available and their rates. You are also welcome to call 410- 357- 4088 for more information. The sites are metered and the electric is .24 per kilowatt. You must pay for the electric that you use each month when you pay your site fee.
Can I take my RV off of the site to go on vacation? Certainly. Your long-term account and electric must be paid up to date. You must inform the office when the RV will be off site and when you plan to return. You are still responsible for the site while the RV is out.
Can I use my RV in the winter? Yes. The campground is open all year. The water is not turned off during the cold weather. The upper restrooms remain open during the cold weather.
What could I do if the site that I want is not available? You could stay on a temporary site until a site that you prefer is available. You can move to a different site at any time.
We are interested in placing our RV on a campground for a long period of time. We have never done this before so where do we start? Once you have chosen a long term site that is available, you would make an appointment to meet with the owner. The owner will take you through the campground and show you the long term sites that are available at the time and answer any questions that you may have.